Introduction to Creation Music Kumat | Pengantar Musik Kreasi Kumat
Keywords:
Creation Music, Formulation, Kumat, Tradition
Abstract
Kumat's work is a composition of new creations that is packaged with a traditional nuance. This work is an interpretation of the mechanism of bipolar mental disorder compiled through a musical formulation that corresponds to the mechanism of bipolar. This work focuses on two building elements, namely musical formulations and musical nuances, musical formulations are concrete and musical nuances are variable according to the listener's musical experience. Kumat's work uses a modified Jegog gamelan as a medium of expression. The location of the modifications is on the barangan instrumen, kantil, suwir which are made into one stump, with the addition of two other instrumens as melody modifiers, namely kuntung and undir. The process of creating this work is carried out in four stages, namely initial stimulation combined with the concept of Alma M. Hawkins in the book Creating Trough Dance which consists of exploration, improvisation, formation. This work is manifested in the form of creative percussion which is still based on the realm of tradition, the renewal contained in this work lies in the musical formulation that adopts the mathematical science of the magic square as the basis for the formation of the work.
References
Ah, Y. (2019). Kesehatan Jiwa Pendekatan Holistik Dalam Asuhan Keperawatan. Mitra Wacana Media.
Ardiana, K. A. N. K. S. (2021). Introduction to "Achromatic" Karawitan Artwork | Pengantar Karya Seni Karawitan "Achromatic." Ghurnita, 1(2), 108–116. https://jurnal2.isi-dps.ac.id/index.php/ghurnita/article/view/214
Bandem, I. M. (2013). Gamelan Bali di atas Panggung Sejarah. Badan Penerbit STIKOM Bali.
Cahyo. (2018). Notasi Musik Abad 20 & 21. Art Music Today.
Djelantik, A. A. . (1992). Pengantar Dasar Ilmu Estetika Jilid II Falsafah Keindahan Dan Kesenian. STSI Denpasar.
Djohan. (2016). Psikologi Musik (Cetakan IV). Penerbit Indonesia Cerdas.
Hawkins, A. M. (2003). Creating Through Dance (Mencipta Lewat Tari terjemahan Y. Sumandiyo Hadi). In Manthili Yogyakarta.
Santosa, H. S. (2016). Gamelan Sistem Sepuluh Nada dalam Satu Gembyang untuk Olah Kreativitas Karawitan Bali. Pantun, 1(2), 85–96. https://jurnal.isbi.ac.id/index.php/pantun/article/view/747
Schawrtzman, S. (1994). The Words of Mathematics: An EtymologicalDictionary of Mathematical Term Used In English. MAA.
Senen, I. W. (2014). Konsep Penciptaan dalam Karawitan dalam Lokarya Metodologi Penelitian. ISI Yogyakarta.
Sugiartha, I. G. A. (2012). Kreativitas Musik Bali Garapan Baru Perspektif Cultural Studies. Institut Seni Indonesia Denpasar.
Sukerta, P. M. (2011). Metode Penyusunan Karya Musik: Sebuah Alternatif. ISI Press Solo.
Wicaksono, Y. I. (2016). Gejala Gangguan Jiwa Dan Pemeriksaan Psikiatri Dalam Praktek Klinis. Media Nusa Creative.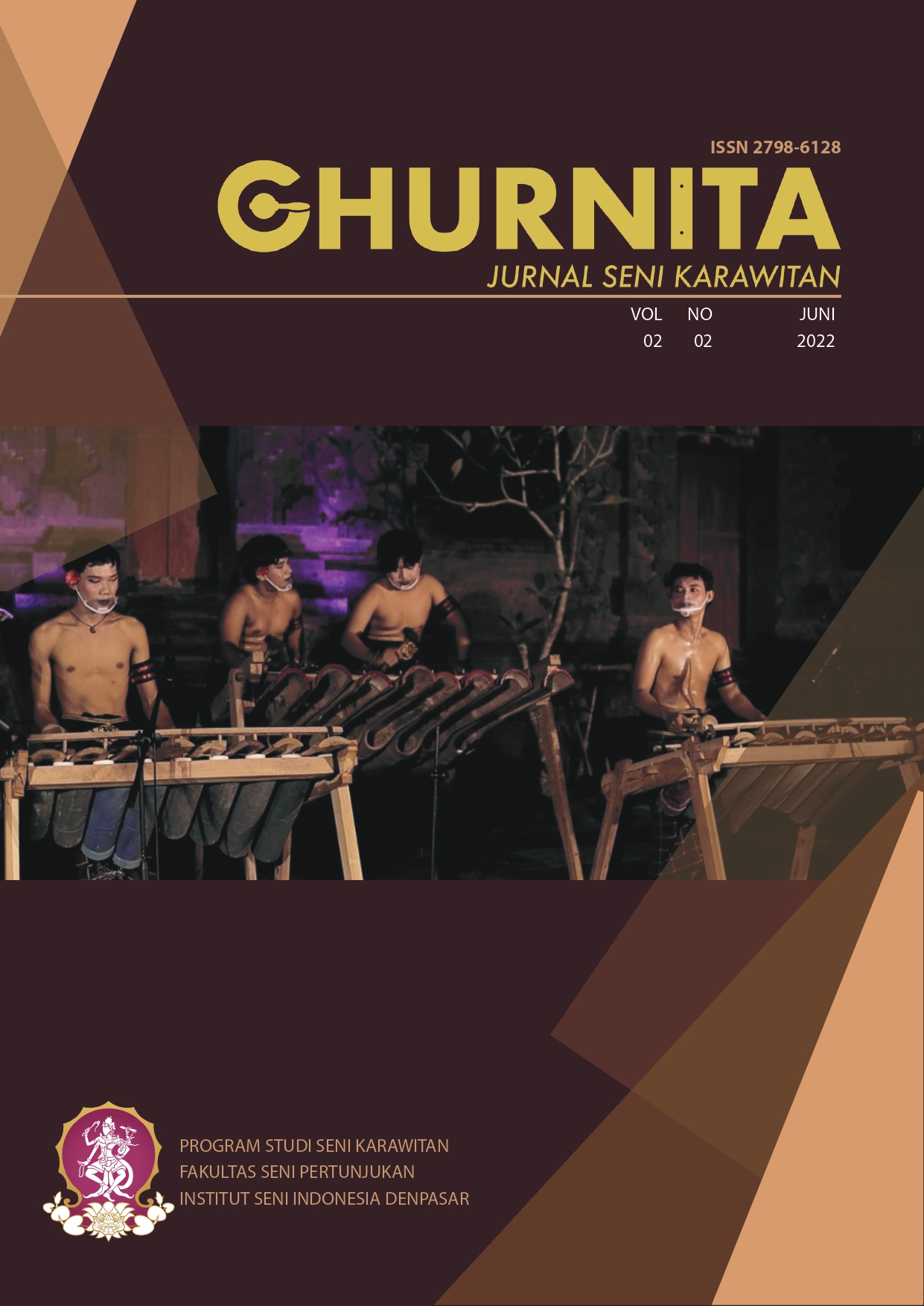 Downloads