PENERAPAN MAKE UP SPESIAL EFEK DALAM FILM "GERING"
Keywords:
Pandemic Covid-19, Film, Gering, Make up, Special Effect
Abstract
The Covid-19 pandemic is a phenomenon that is happening all over the world, especially in Bali, the Covid-19 disease that causes the virus to suddenly enter the human body. Currently, the government is actively trying to vaccinate evenly to all people. The phenomenon of the Covid-19 pandemic became the basic idea in the film entitled "Gering". The author applies make-up using special effects techniques to exaggerate a character in a scene in the film and can build the emotional level of players in a scene mechanically and psychologically so that it looks real when shooting in turning human characters into monsters. The make-up theory used by the author to make the film "Gering" is aesthetics and mise en scene in terms of make-up. The aesthetic value in the film "Gering" is that the audience can feel the value of the horror of the monster in one of the scenes. The value of mise en scene in the film "Gering" is found in the makeup that can distinguish humans and monsters in a scene. The method used to make the film "Gering" is a qualitative method with a phenomenological approach. The source of the data obtained to complete the making of the film "Gering" is the observation of the fungus ophiocordysecps which can support the realization of special effects makeup. The application of make-up special effects is a  technique to make a scene or event real and used in an injury scene without injuring the player. The process of making mustard makeup starts from mutation changes in the form of rashes to the appearance of rooted bumps. The results of the special effects makeup in the movie "Gering" show several forms of wounds on each monster, including abrasions, bruises, bloodstains, lumps filled with roots, and changes in the structure of the eyes. Outcome Film "Gering" with a duration of 25 minutes is a thriller drama genre, which has a message for people to be more introspective and always take care of their health and the environment.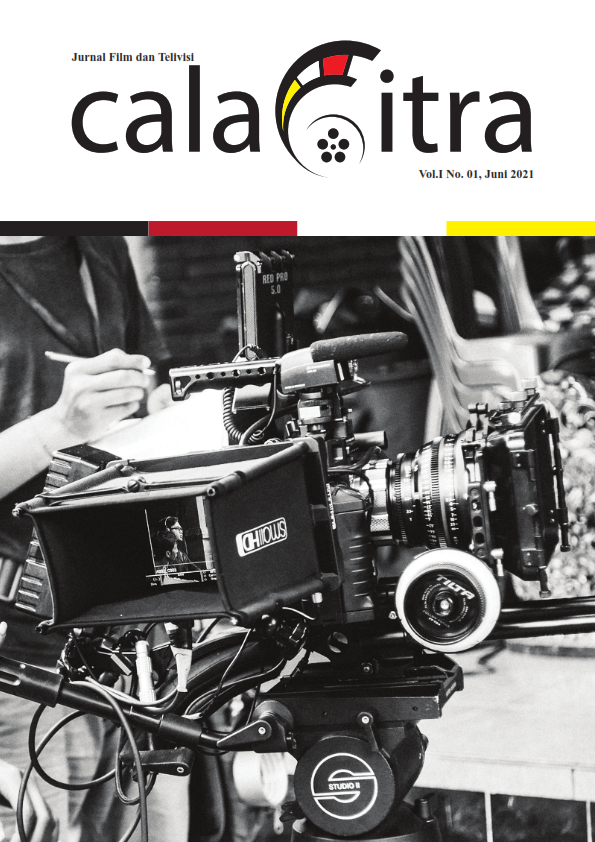 Downloads
How to Cite
Putri, K. M. P., Mudra, I. W., & Wirawan, I. G. N. (2021). PENERAPAN MAKE UP SPESIAL EFEK DALAM FILM "GERING". CALACCITRA: JURNAL FILM DAN TELEVISI, 1(2), 51–57. Retrieved from https://jurnal2.isi-dps.ac.id/index.php/calaccitra/article/view/758
License
This work is licensed under a Creative Commons Attribution-NonCommercial-ShareAlike 4.0 International License.