Contemporary Music Composition "Konfrontasi" | Komposisi Musik Kontemporer "Konfrontasi"
Keywords:
konfrontasi, composition, contemporary, panca sthiti ngawi sani
Abstract
"Konfrontasi" composition is a musical composition that refers to a representation of one form of conflict, which describes an event in which one provokes an action or argument opposite from another person who is considered an opponent openly. In music, confrontation is likened to a word that describes the dynamic and disharmist movement of musical sentences. Confrontation is realized based on the continuity of Gong Kebyar's gamelan character as a revealing medium, namely dynamic characters. Confrontation is realized with the aim of enhancing the knowledge and expertise of stylists to build the ability to create contemporary compositions based on simple thinking on the relevance of the characteristics of ideas to the characteristics of Gong Kebyar. In realizing the composition of Confrontation, stylists use the method of creation of Panca Sthiti Ngawi Sani consisting of: Ngawirasa (Inspiration), Ngawacak (Exploration), Ngarancana (Conception), Ngawangun (Execution), and Ngebah (Presentation). Konfrontasi composition is presented as a contemporary composition with structural parts consisting of three parts with a focus on the concept of contrast and harmony. Contemporary composition is a musical composition that not only considers free without considering conventional provisions or forgetting tradition.
References
A.A.M.Djelantik. (1999). Estetika: Sebuah Pengantar. Masyarakat Seni Pertunjukan Indonesia (MSPI).
Bandem, I. M. (2013). Gamelan Bali di atas Panggung Sejarah. Badan Penerbit STIKOM Bali.
Dibia, I. W. (2020). Panca Sthiti Ngawi Sani Metodologi Penciptaan Seni. Pusat Penerbitan LPPMPP Institut Seni Indonesia Denpasar.
Hardjana, S. (2003). Corat-Coret Musik Kontemporer. Ford Foundation dan Masyarakat Seni Pertunjukan Indonesia.
Hardjana, S. (2004). Musik Antara Kritik dan Apresiasi. PT Kompas Media Nusantara.
I Kadek Tunas Sanjaya, I. N. K. (2021). Introduction to Contemporary Music "Ngegong" | Pengantar Musik Kontemporer "Ngegong." GHURNITA: Jurnal Seni Karawitan, 01(01), 11–19. https://jurnal2.isi-dps.ac.id/index.php/ghurnita/article/view/141
K.Bertens. (2016). Psikoanalisis Sigmund Freud (2nd ed.). PT Gramedia Pustaka Utama.
Miller, H. M., Sunarto, & Baramatyo, T. (2017). Apresiasi Musik. Thafz Media.
Paristha, P. P., Gede, Y. I., & Hendra, S. (2018). Tirtha Campuhan: Sebuah Karya Komposisi Baru dengan Media Gamelan Smar Pagulingan. Resital: Jurnal Seni Pertunjukan (Journal of Performing Arts), 19(3), 113–121
Pratama, G. M. R. S. (2021). Campuhan: A New Music Creation | Campuhan: Sebuah Musik Kreasi Baru. Ghurnita: Jurnal Seni Karawitan, 01(02), 92–99. https://jurnal2.isi-dps.ac.id/index.php/ghurnita/article/view/149
Putra, I. K. A., Santosa, H., & Sudirga, I. K. (2020). The Concept of Balance at Sekati Ririg Gending in Tejakula , Buleleng Regency. HARMONIA Jurnal Arts Of Research and Education, 20(2), 183–194. https://doi.org/10.15294/harmonia.v20i2.25412
Saptono, Haryanto, T., & Hendro, D. (2019). Greng Sebuah Estetika Dalam Kerampakan Antara Gamelan dan Vokal. KALANGWAN Jurnal Seni Pertunjukan, 5(1), 29–38. https://doi.org/10.31091/kalangwan.v5i1.728
Sudirga, I. K. (2020). Komposisi Karawitan dalam Perspektif Estetika Posmodern. Journal of Music Science, Technology, and Industry, 3(2), 181–200. https://doi.org/10.31091/jomsti.v3i2.1156
Yudha, I. N., Widiantara, P., Santosa, H., & Suartaya, K. (2020). Proses Penciptaan Komposisi Karawitan Kreasi Baru Paras Paros. 8(April), 1–13. https://doi.org/10.24821/promusika.v1i1.3607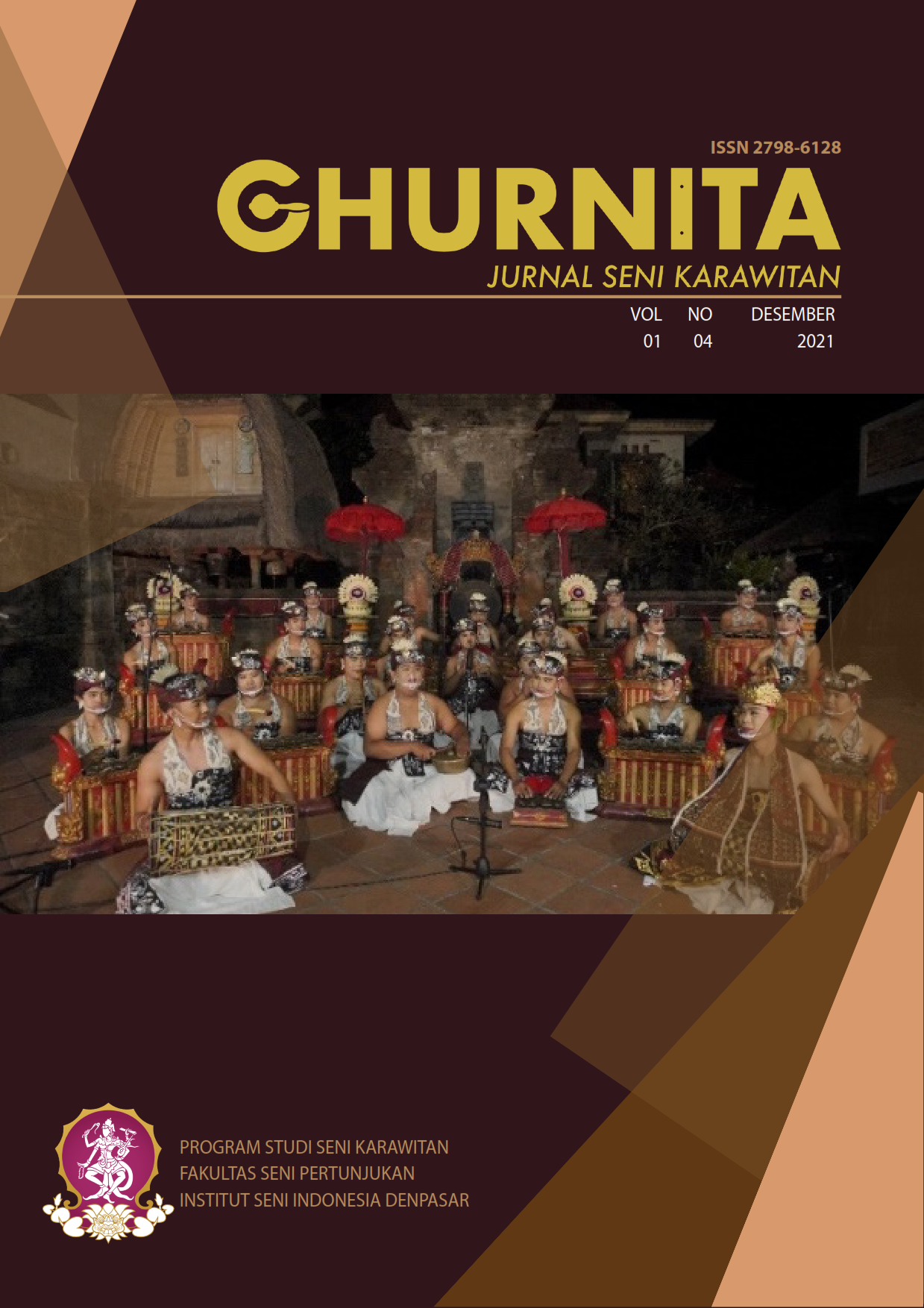 Downloads