Pelegongan Music Composition "Kasmaran | Komposisi Gamelan Pelegongan "Kasmaran"
Keywords:
Kasmaran, Gong Kebyar, Ubit-ubitan, Tri Angga
Abstract
This work has a percussion form created by petegak pelegongan, entitled "Kasmaran". This work is transformed from a phenomenon of love that the stylist feels or from the stylist's own personal experience into a musical work of art with the media saying Gong Kebyar and two ungguh gender vines and does not use the reong instrument found in the barungan Gong Kebyar, because it is seen from the context of the gamelan Pelegongan. do not use a reong instrument. The form of this claim cannot be separated from the elements of existing traditions, this work consists of three parts, namely kawitan, pengawak and pengcet. The arrangement of musical elements in terms of song structure, playing techniques and gending motifs was redeveloped by processing musical elements such as tone, melody, tempo, rhythm and dynamics. In addition to these things, general aesthetic characteristics such as unity (wholeness, compactness, cleanliness), complexity (complexity) and intensity (strength, sincerity, belief) are also used as references in realizing artistic works to give artistic weight to Kasmaran's musical works of high quality.
Downloads
Download data is not yet available.
References
A.A.M.Djelantik. (2004). Estetika Sebuah Pengantar (2nd ed.). Masyarakat Seni Pertunjukan Indonesia (MPSI).
Dewantara, I. P. G. E. P., Suartaya, K., & I Ketut Garwa. (2021). Sangkameteng Karawitan Composition | Komposisi Karawitan Sangkameteng. GHURNITA: Jurnal Seni Karawitan, 01(01), 47–55. https://jurnal2.isi-dps.ac.id/index.php/ghurnita/article/view/212
Dibia, I. W. (2017). Kotekan Dalam Musik Dan Kehidupan Bali. Bali Mangsi Foundation dan ISI Denpasar.
Hawkins, A. M. (2003). Mencipta Lewat Tari. Terj. Y. Sumandiyo Hadi. Manthili.
Kariasa, I. N., & Putra, I. W. D. (2021). Karya Karawitan Baru Manikam Nusantara. Mudra Jurnal Seni Budaya, 36(2), 222–229. https://doi.org/10.31091/mudra.v36i2.1471
Muryana, I. K., Haryanto, T., Gede, I., & Widi, F. (2020). Eksistensi Gamelan Gong Luang Di Banjar Seseh Desa Singapadu. 6(November), 105–110.
Pryatna, I. P. D. H. S. (2020). Konsep Musikal Instrumen kendang Dalam Gamelang Gong Kebyar Bali. Resital: Jurnal Seni Pertunjukan, 21(2), 73–84. https://doi.org/10.24821/resital.v21i2.4220
Rianta, I. M. K. S. H. S. I. M., Santosa, H., & Sariada, I. K. (2019). Estetika Gerak Tari Rejang Sakral Lanang Di Desa Mayong, Seririt, Buleleng, Bali. MUDRA Jurnal Seni Budaya, 34(3), 385–393. https://doi.org/10.31091/mudra.v34i3.678
Saptono, Haryanto, T., & Hendro, D. (2019). Greng Sebuah Estetika Dalam Kerampakan Antara Gamelan dan Vokal. KALANGWAN Jurnal Seni Pertunjukan, 5(1), 29–38. https://doi.org/10.31091/kalangwan.v5i1.728
Supriyadnyana, P. G. W., Mustika, P. G., & Muryana, K. (2020). Pengantar Karya Komposisi Tabuh Kreasi Pepanggulan Amande. Kalangwan: Jurnal Seni Pertunjukan, 6(1), 16–25.
Yasa, I. G. J. M. Y. N. P. T. A. (2021). Tabuh Lelambatan Klakat Sudhamala: A New Creative Musical Composition | Tabuh Lelambatan Klakat Sudhamala: Sebuah Komposisi Karawitan Kreasi Baru. GHURNITA: Jurnal Seni Karawitan, 01(01), 37–46. https://jurnal2.isi-dps.ac.id/index.php/ghurnita/article/view/191
Yudha, I. N., Widiantara, P., Santosa, H., & Suartaya, K. (2020). Proses Penciptaan Komposisi Karawitan Kreasi Baru Paras Paros. 8(April), 1–13. https://doi.org/10.24821/promusika.v1i1.3607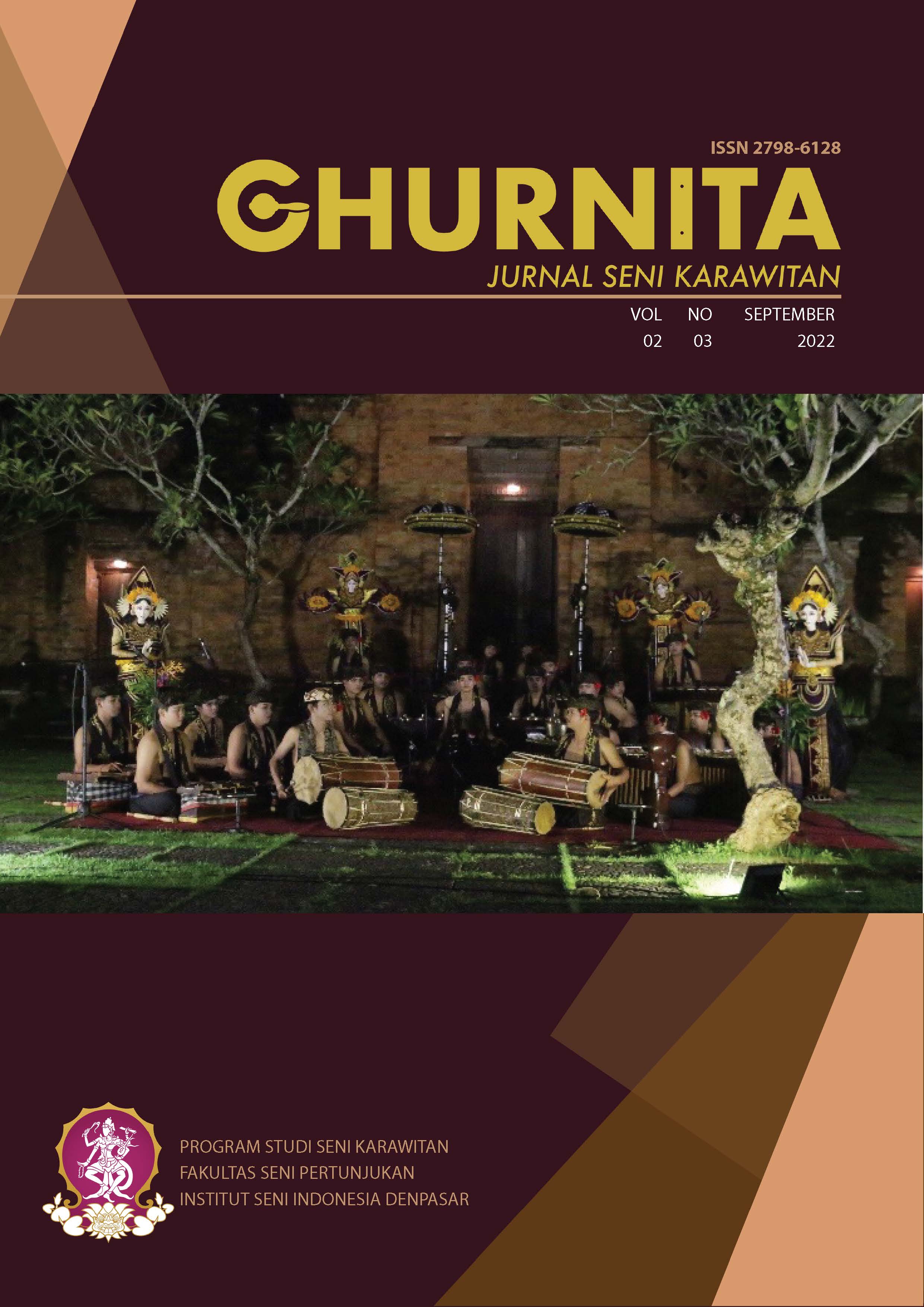 Downloads