Music Composition Tresna Yana | Komposisi Tabuh Kreasi Tresna Yana
Keywords:
Love story, Tresna yana, Samapada, Seven tones
Abstract
Tresna Yana is a creative musical work inspired by the stylist's personal experience in a love story. The title Tresna Yana was chosen because Tresna Yana means a journey of love. Everyone has a different love story, and a different love dynamic. Likewise with stylists who experience various feelings and emotions in the love story experienced from the beginning of knowing love until now. The purpose of creating Tresna Yana's work is to express what the stylist feels and the dynamics of love experienced. This work uses the medium of expressing gamelan samapada which has seven notes with the aim of building the desired atmosphere and using vocals to clarify the atmosphere experienced. The creation of this work went through three stages, namely exploration (exploration), experiment (improvisation), and formation (forming). Structurally, this work is divided into four parts where each part has an interrelated relationship. This work is expected to send a moral message about how important the power of holy love is in life.
References
Dewantoro, S. H. (2018). Sastrajendra Ilmu Kesempurnaan Jiwa. Javanica.
Hawkins, A. M. (1990). Creating Through Dance (S. Hadi (ed.); Terjemahan). Institut Seni Indonesia Yogyakarta.
Kusuma, I. N. D. Y. N. P. H. (2021). Musical Composition of Gender Wayang "Silat Lidah" | Komposisi Musik Gender Wayang "Silat Lidah." Ghurnita: Jurnal Seni Karawitan, 01(01), 65–72. https://jurnal2.isi-dps.ac.id/index.php/ghurnita/article/view/311
Lestari, N. S. (2004). Kisah Cinta "Smaradahana." WACANA, 6.
Nagara, I. P. P. I. N. S. (2021). Gamelan Gender Wayang Composition "Sandaran Laju" | Komposisi Gamelan Gender Wayang "Sandaran Laju." GHURNITA: Jurnal Seni Karawitan, 01(02), 117–125. https://jurnal2.isi-dps.ac.id/index.php/ghurnita/article/view/333
Pryatna, H. S. I. K. S. I. P. D. (2020). Permainan Kendang Bali. Dewaruci, 15(2), 90–100. https://doi.org/10.33153/dewaruci.v15i2.2991
Purana, I. M. (2016). Pelaksanaan Tri Hita Karana Dalam Kehidupan Umat Hindu. Jurnal Kajian Pendidikan Widya Accarya FKIP Universitas Dwijendra.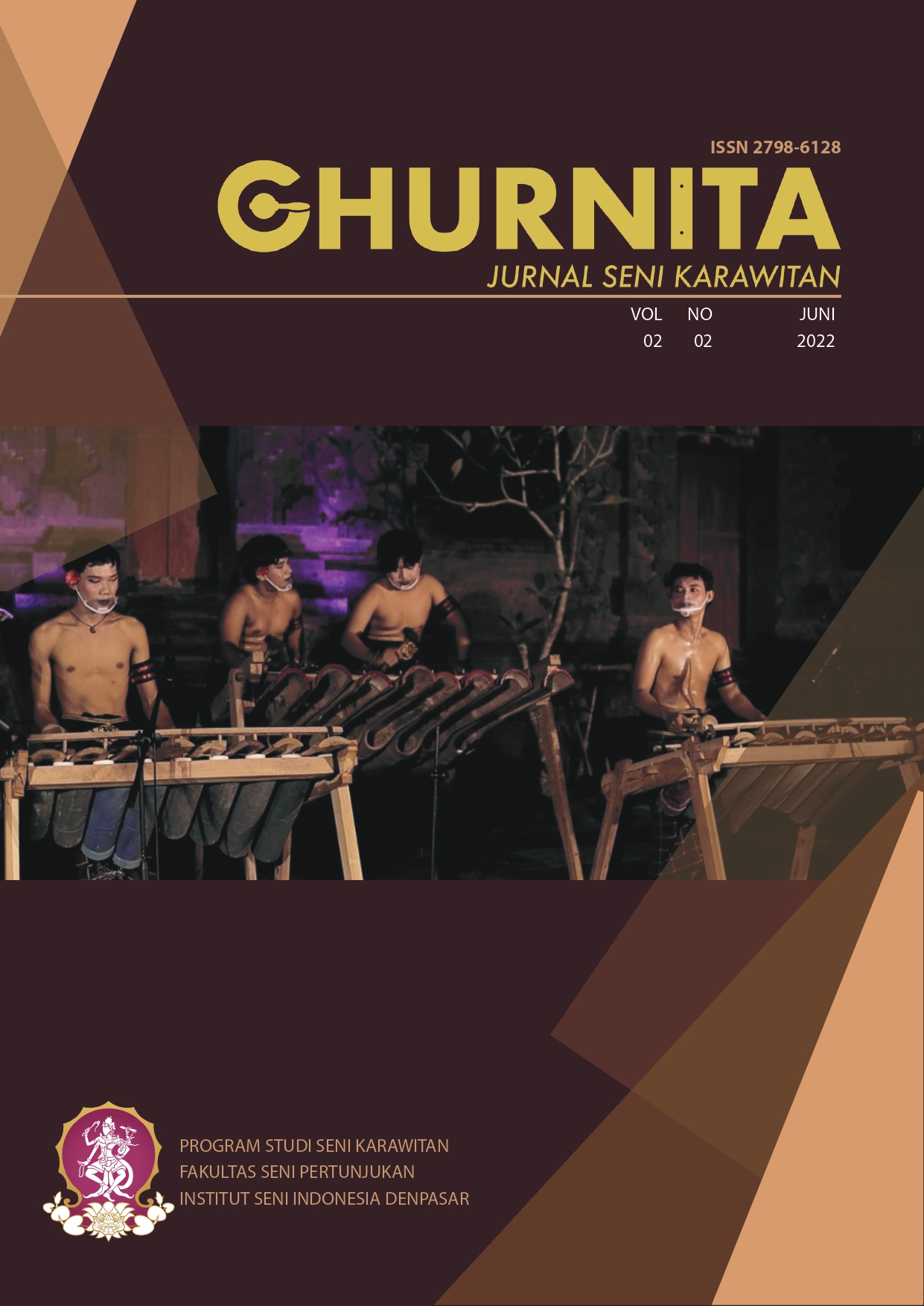 Downloads