Introduction to "Liput Semara" Creative Composition | Pengantar Komposisi Kreasi "Liput Semara"
Keywords:
Love, Music Creation, Modulation, Elaboration
Abstract
Liput Semara's artwork was motivated by a love that the stylist had experienced. Where this love occurs because of a first meeting with a woman which causes mutual liking, to end in a romantic relationship and tie a promise of love that is never broken. The expression of love is used as the basic footing for the stylist to work on the composition of Liput Semara's musical composition. The definition of liput can be interpreted as a mood when carried away by a feeling, and semara which is taken from Hindu mythology as a symbol of love. From this composition, Liput Semara was inspired by the form of the stylist's love for a woman who the stylist once loved. Liput Semara's artwork is a traditional artwork by taking the form of creative compositions using the medium of the gamelan Semar Pegulingan Saih Pitu. Regarding the structure, the stylist uses the Tri Angga structure which consists of Kawitan, Pengawak and Pengcet as the main structure. The stages of the process of this work go through a process of elaboration of stages, where the stages are taken from the concept of Bambang Sunarto in the book Methodology of Art Creation and Wayan Senen's book entitled Wayan Beratha – Gamelan Kebyar Reformer. So that from the elaboration it produces stages of reasoning, creation, menahin and ngelesin.
References
Bandem, I. M. (2013) Gamelan Bali Diatas Panggung Sejarah. Denpasar: BP. STIKOM BALI.
Dewanti, P. P. W. A. (2019) 'Konsep Rwa Bhineda Pada Kain Poleng Busana Pemangku Pengluransaat Upacara Pengerebongan Di Pura Agung Petilan, Kesiman', Da Moda, 1(1), pp. 16–20.
Kariasa, I. N. and Putra, I. W. D. (2021) 'Karya Karawitan Baru Manikam Nusantara', Mudra Jurnal Seni Budaya, 36(2), pp. 222–229. doi: 10.31091/mudra.v36i2.1471.
Muryana, I. K. et al. (2020) 'Eksistensi Gamelan Gong Luang Di Banjar Seseh Desa Singapadu', 6(November), pp. 105–110.
Paristha, P. P., Gede, Y. I. and Hendra, S. (2018) 'Tirtha Campuhan: Sebuah Karya Komposisi Baru dengan Media Gamelan Smar Pagulingan', Resital: Jurnal Seni Pertunjukan (Journal of Performing Arts), 19(3), pp. 113–121.
Pratiwi, R. (2019) Analisis Harmoni Pada Lagu "Kiss The Rain" Karya Yiruma. Universitas Pasundan.
Putra, I. M. D. A. (2021) 'Eksplorasi Gamelan Angklung dan Selonding Sebagai Media Ungkap Dalam Penciptaan Karya Musik †œKapetengan‒, Segara Widya: Jurnal Penelitian Seni, 9(1), pp. 1–7.
Putra, I. W. D. (2019) 'Analisis Metode Penciptaan Gending Gesuri Karya I Wayan Beratha', Kalangwan, 5(2), pp. 75–82.
Rusdiana, H. A. (2014) Kewirausahaan - Teori dan Praktik. Bandung: CV. Pustaka Setia.
Suastika, I Gede Putu. Sudiana, I Nyoman. Sudhana, I. K. (2020) 'Manis Batu Sebuah Garapan Kreasi Baru Gamelan Semar Pagulingan Saih Pitu', Segara Widya, 8(1), pp. 1–12. Available at: https://jurnal.isi-dps.ac.id/index.php/segarawidya/article/view/1046.
Sukerta, P. M. (2010) Tetabuhan Bali I. Surakarta: ISI Press Surakarta.
Sukerta, P. M. (2011) Metode Penyusunan Karya Musik (Sebuah Alternatif). Surakarta: ISI Press Solo.
Sunarto, B. (2011) Modul Metodologi Penciptaan Seni. Institut Seni Indonesia Surakarta.
Widjaja, Y. R. W. (2019) Bisnis Kreatif dan Inovasi. Makassar: Yayasan Barcode.
Yudha, I. N. et al. (2020) 'Proses Penciptaan Komposisi Karawitan Kreasi Baru Paras Paros', 8(April), pp. 1–13. doi: 10.24821/promusika.v1i1.3607.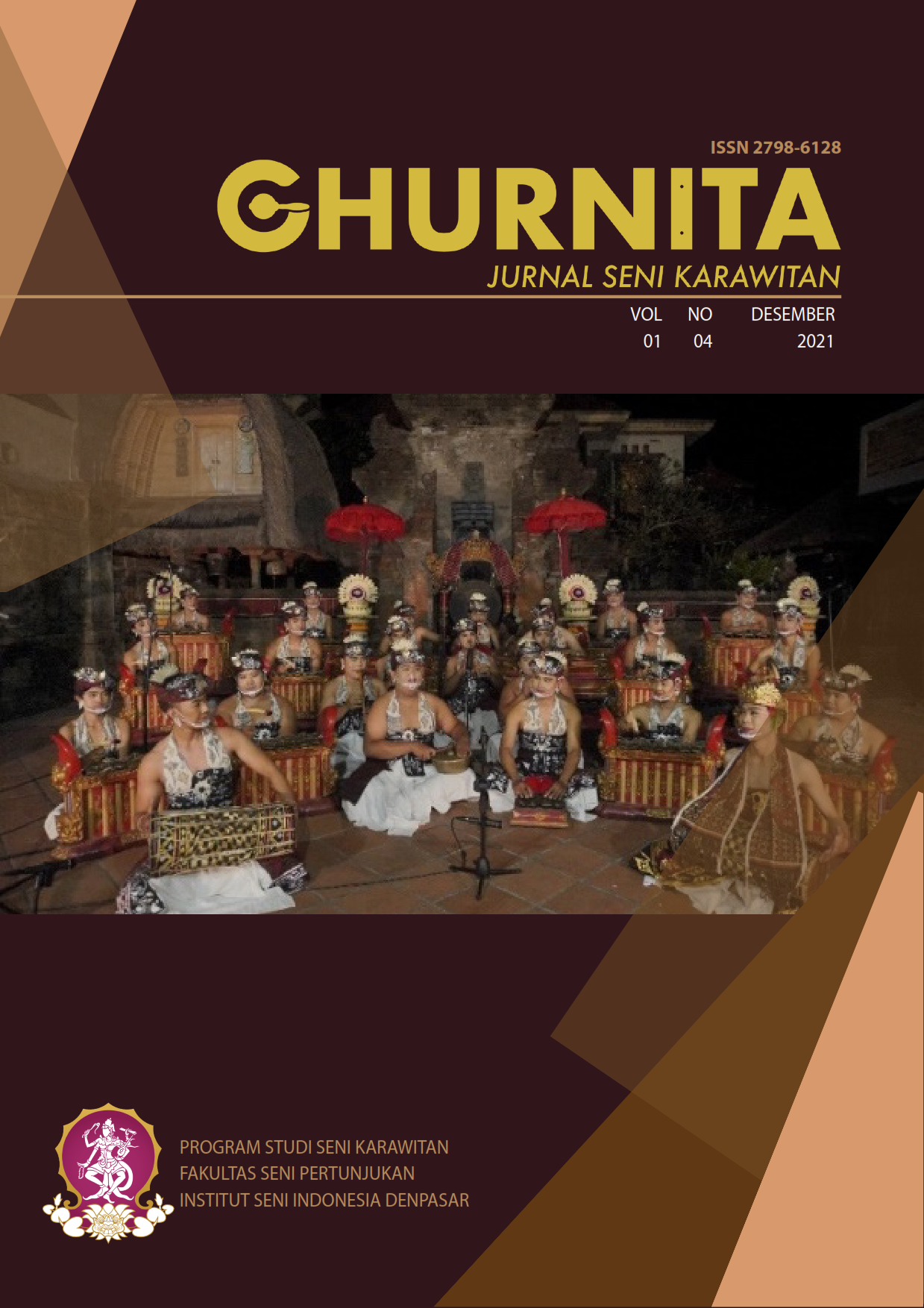 Downloads