The New Music Creation Jaladi Merta Ayu | Tabuh Kreasi Baru Jaladi Merta Ayu
Keywords:
Jaladi Merta Ayu, Gong Kebyar , New patterns, Sanur Beach, Merdu Flute
Abstract
This creative percussion musical composition entitled "Jaladi Merta Ayu" is a new composition work or a creative percussion musical composition that offers or highlights new ideas, is contemporary, and enhances originality. The creator imagines by systematically raising a Balinese musical composition whose source of inspiration comes from the beautiful phenomena and daily life of the Sanur beach from the morning before sunrise until the evening is crowded with tourists who visit both local residents and foreign nationals, thus triggering the creator to make it a work of art. new creative percussion art. The creator wants this creative percussion work to provide a new atmosphere and impressions, to realize this creative percussion work the creator processes various existing game patterns into new game patterns that have been designed in such a way so as not to lose control from the points contained previously. This percussion artwork created by "Jaladi Merta Ayu" uses the structure of kawitan, crew, compassion, and pusher. Selection of a set of gamelan, namely barungan gamelan gong kebyar, each part of this work by processing new playing patterns with a contemporary smell, melodic flute playing patterns according to what the creator has designed based on the concepts used and can process musical elements such as dynamics (aes). -uncab) and the tempo. This creative percussion in every part has endings that occur during the daily life of the Sanur beach, namely in part one in the morning, part two in the afternoon, part three in the afternoon, part four at night with the most awaited ending, namely the beauty of the full moon shining Sanur beach night. With this, the creator hopes that this creative percussion can be an example that is worthy of being enjoyed and practiced.
Downloads
Download data is not yet available.
References
A.A.M.Djelantik. (2004). Estetika Sebuah Pengantar (2nd ed.). Masyarakat Seni Pertunjukan Indonesia (MPSI).
Ardana, I. K. (2017). Metode Penciptaan Karya-Karya Baru Karawitan Bali. In Yudiaryani, B. Pudjasworo, H. B. Prasetya, & I. W. Senen (Eds.), Karya Cipta Seni Pertunjukan (pertama, pp. 345–363). JB Publisher bekersama dengan Fakultas Seni Pertunjukan ISI Yogyakarta.
Bandem, I. M. (2013). Gamelan Bali Di Atas Panggung Sejarah. STIKOM BALI.
Gita, G. R. S., & I Ketut Sudhana. (2021). Pengantar Karya Komposisi Karawitan "Tirtha Nadi." Jurnal Ghurnita, 01, 75–83.
Hawkins, A. M. (1990). Creating Through Dance (S. Hadi (ed.); Terjemahan). Institut Seni Indonesia Yogyakarta.
I Made Doni Trisnajaya, I Ketut Adi Purnawan, K. S. W. (2015). Gamelan Gong Kebyar, Gong Kempur, Jegogan dan Petuk Berbasis Android. 3, 96–107.
IGA Gede Oka Gautama, N. S. (2005). Evaluasi Perkembangan Wisata Bahari Di Pantai Sanur.
Pryatna, H. S. I. K. S. I. P. D. (2020a). Permainan Kendang Bali. Dewaruci, 15(2), 90–100. https://doi.org/10.33153/dewaruci.v15i2.2991
Pryatna, H. S. I. K. S. I. P. D. (2020b). TEKNIK PERMAINAN KENDANG TUNGGAL PADA GAMELAN BALI. Pusat Penerbitan LP2MPP ISI Denpasar. http://repo.isi-dps.ac.id/3795/
Sadguna, I. G. M. I., & Sutirtha, I. W. (2015). Genggong Dalam Karawitan Bali: Sebuah Kajian Etnomusikologi. Segara Widya: Jurnal Penelitian Seni, 3.
Sanjaya, I. K. T., & I Nyoman Kariasa. (2021). Pengantar Musik Kontemporer "Ngegong." Ghurnita, 01(01), 11–19. https://jurnal2.isi-dps.ac.id/index.php/ghurnita/article/view/141
Santosa, H. S. (2016). Gamelan Sistem Sepuluh Nada dalam Satu Gembyang untuk Olah Kreativitas Karawitan Bali. Pantun, 1(2), 85–96. https://jurnal.isbi.ac.id/index.php/pantun/article/view/747
Sugiartha, I. G. A. (2012). Kreativitas Musik Bali Garapan Baru Perspektif Cultural Studies. Institut Seni Indonesia Denpasar.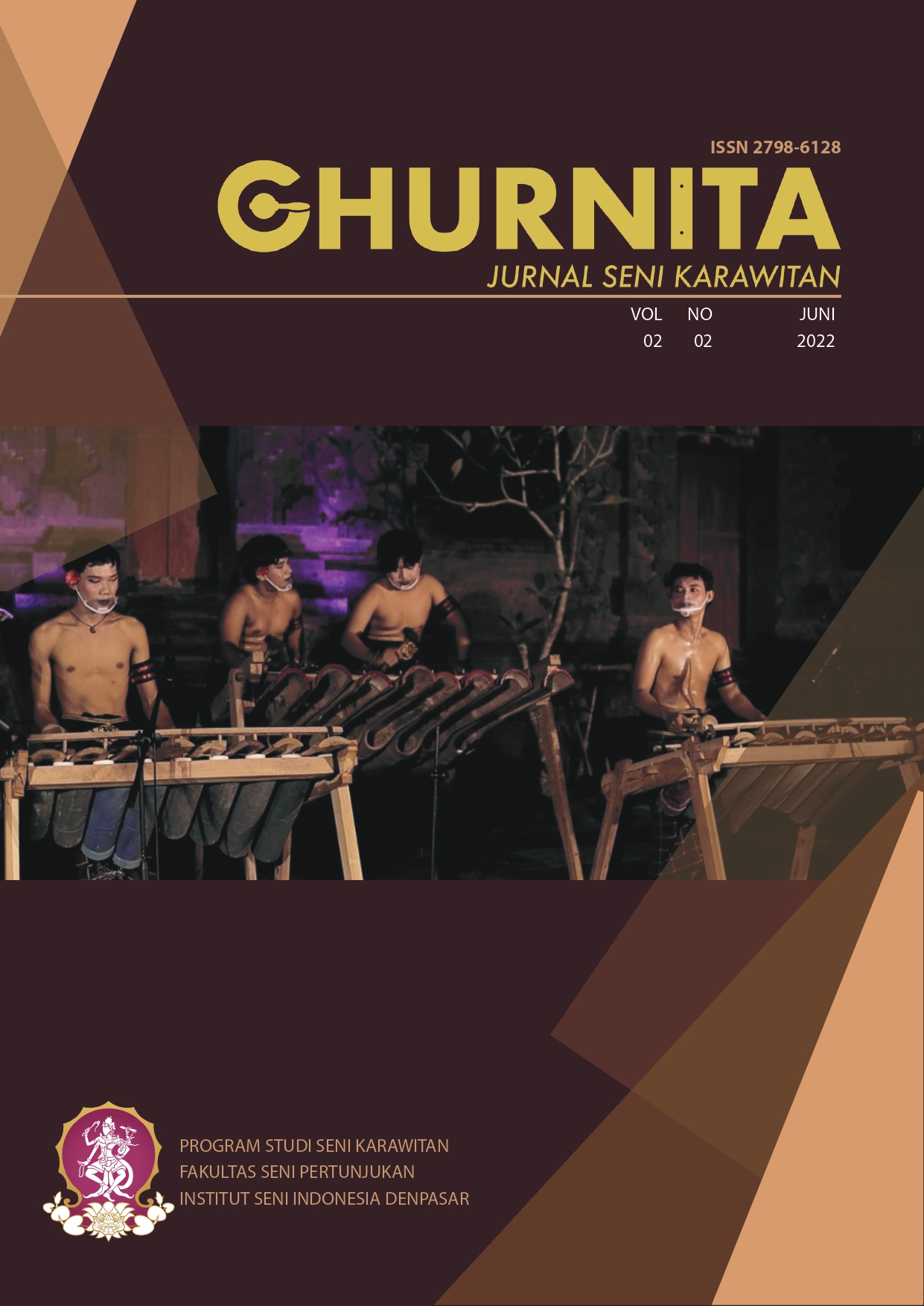 Downloads