Karawitan Composition Ngebur | Komposisi Karawitan Ngebur
Keywords:
Ngebur, Gong Kebyar, Karawitan, Inovatif
Abstract
Ngebur is an acronym for the syllables nges, bungah, and rame. The three words are an elaboration that occurs in a kotekan. The media reveals that this work uses the gamelan Gong Kebyar, which focuses on cultivating the ugal, pemade, and kantilan instruments. This work is inspired by a kotekan that exists in Balinese gamelan and adopts several kotekan which were later developed without losing the characteristics of the kotekan that the stylist adopted. The stages of the creative process in this work use the method of Mr. I Wayan Beratha. The stages of this method are divided into three stages, which consist of (1) nguping, (2) menahin, and (3) ngelesin. This Ngebur musical composition was worked on and realized in the form of innovative musical music that lasted 12 minutes supported by 17 players including the stylist. The purpose of creating this work is to find out about the structure, techniques, and patterns found in kotekan in Balinese music. The benefits of the creation of this work are the realization of a subjective ability of the stylist to be creative in the field of working on new, innovative music so that it can encourage artists to be more receptive to new works that work does not have to stick to tradition alone, as in this work with processing and development kotekan as the basis for its cultivation.
References
Aryasa, I. W. (1984). Pengetahuan Karawitan Bali. Dapertemen Pendidikan.
Bandem, I. M. (2013). Gamelan Bali di atas Panggung Sejarah. Badan Penerbit STIKOM Bali.
Banoe, P. (2003). Kamus Karawitan. Kanisius.
Diana Putra, I. W. (2019). "Analisis Metode Penciptaan Gending Gesuri Karya I Wayan Beratha". Kalangwan: Jurnal Seni Pertunjukan, 5(2), 75–82. https://jurnal.isi-dps.ac.id/index.php/kalangwan/article/view/901
Dibia, I. W. (2017). Kotekan Dalam Musik Dan Kehidupan Bali. Bali Mangsi Foundation dan ISI Denpasar.
Djelantik, A. A. M. (1990). Pengantar Dasar Ilmu Estetika Jilid I. Sekolah Tinggi Seni Indonesia Denpasar.
Kariasa, I. N., & Putra, I. W. D. (2021). Karya Karawitan Baru Manikam Nusantara. Mudra Jurnal Seni Budaya, 36(2), 222–229. https://doi.org/10.31091/mudra.v36i2.1471
Pradnyantika, I. G. A., Sudiana, I. N., & Haryanto, T. (2019). Waluku Sebagai Acuan Dalam Garapan Karawitan Bali. Kalangwan, 5, 49–60. https://jurnal.isi-dps.ac.id/index.php/kalangwan/article/view/732
Pryatna, I. P. D. H. S. (2020). Konsep Musikal Instrumen kendang Dalam Gamelang Gong Kebyar Bali. Resital: Jurnal Seni Pertunjukan, 21(2), 73–84. https://doi.org/10.24821/resital.v21i2.4220
S., I. W. R. (2001). Gong Antologi Pemikiran. Balimangsi Foundation, Institut Seni Indonesia Denpasar.
Santosa, H. S. (2016). Gamelan Sistem Sepuluh Nada dalam Satu Gembyang untuk Olah Kreativitas Karawitan Bali. Pantun, 1(2), 85–96. https://jurnal.isbi.ac.id/index.php/pantun/article/view/747
Saptono, Haryanto, T., & Hendro, D. (2019). Greng Sebuah Estetika Dalam Kerampakan Antara Gamelan dan Vokal. KALANGWAN Jurnal Seni Pertunjukan, 5(1), 29–38. https://doi.org/10.31091/kalangwan.v5i1.728
Sukerta, P. M. (2009). Ensiklopedi Karawitan Bali. ISI Press Solo.
Yudha, I. N., Widiantara, P., Santosa, H., & Suartaya, K. (2020). Proses Penciptaan Komposisi Karawitan Kreasi Baru Paras Paros. 8(April), 1–13. https://doi.org/10.24821/promusika.v1i1.3607
Yudharta, I. G. (2003). "100 Tahun Gamelan Gong Kebyar". Bheri: Jurnal Ilmiah Musik Nusantara, 2, 64–70.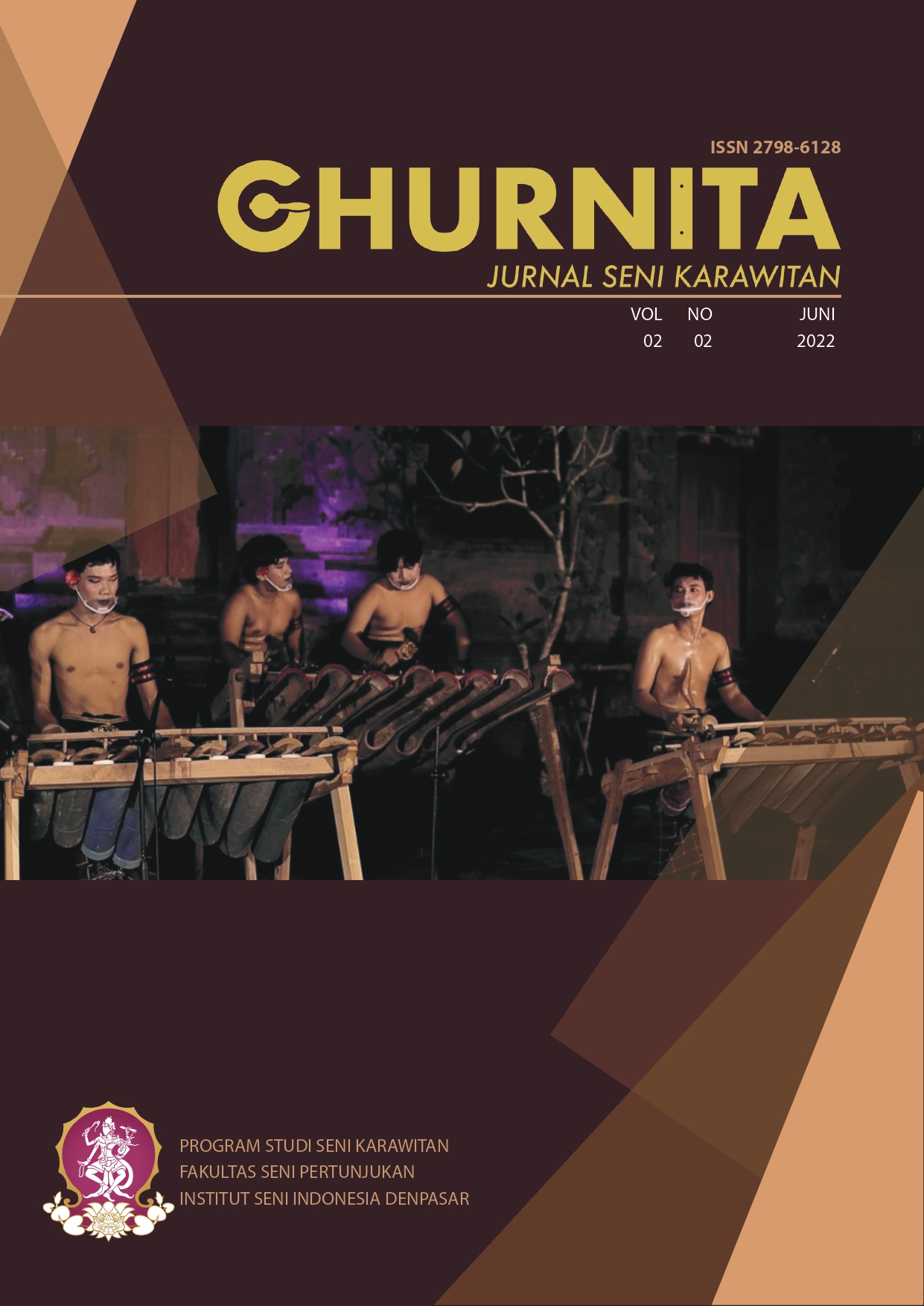 Downloads