HASTAGINA: Jurnal Kriya dan Industri Kreatif adalah e-jurnal yang diterbitkan oleh Program Studi Kriya Fakultas Seni Rupa dan Desain Institut Seni Indonesia Denpasar, terbit 2 (dua) kali setahun yaitu pada bulan Juni dan Desember, dengan periode terbitan bulan Januari-Juni dan bulan Juli-Desember. Jurnal ini memberikan kesempatan kepada dosen, mahasiswa, praktisi, seniman, dan ilmuan untuk mempublikasikan karyanya dalam bentuk karya tulis terkait dengan bidang ilmu kriya dan industri kreatif. Template E-Jurnal Hastagina. Artikel dapat dikirim ke email: [email protected]
Focus dan Scope:
Jurnal ini menerbitkan karya tulis hasil penelitian, pengabdian kepada masyarakat, gagasan koseptual hasil pengkajian dan penciptaan, dan kajian interdisipliner bidang filsafat, sosiologi, antropologi, dan kebudayaan yang berkaitan dengan ilmu kriya dan industri kreatif.
Vol. 3 No. 01 (2023): Hastagina : Jurnal Kriya dan Industri Kreatif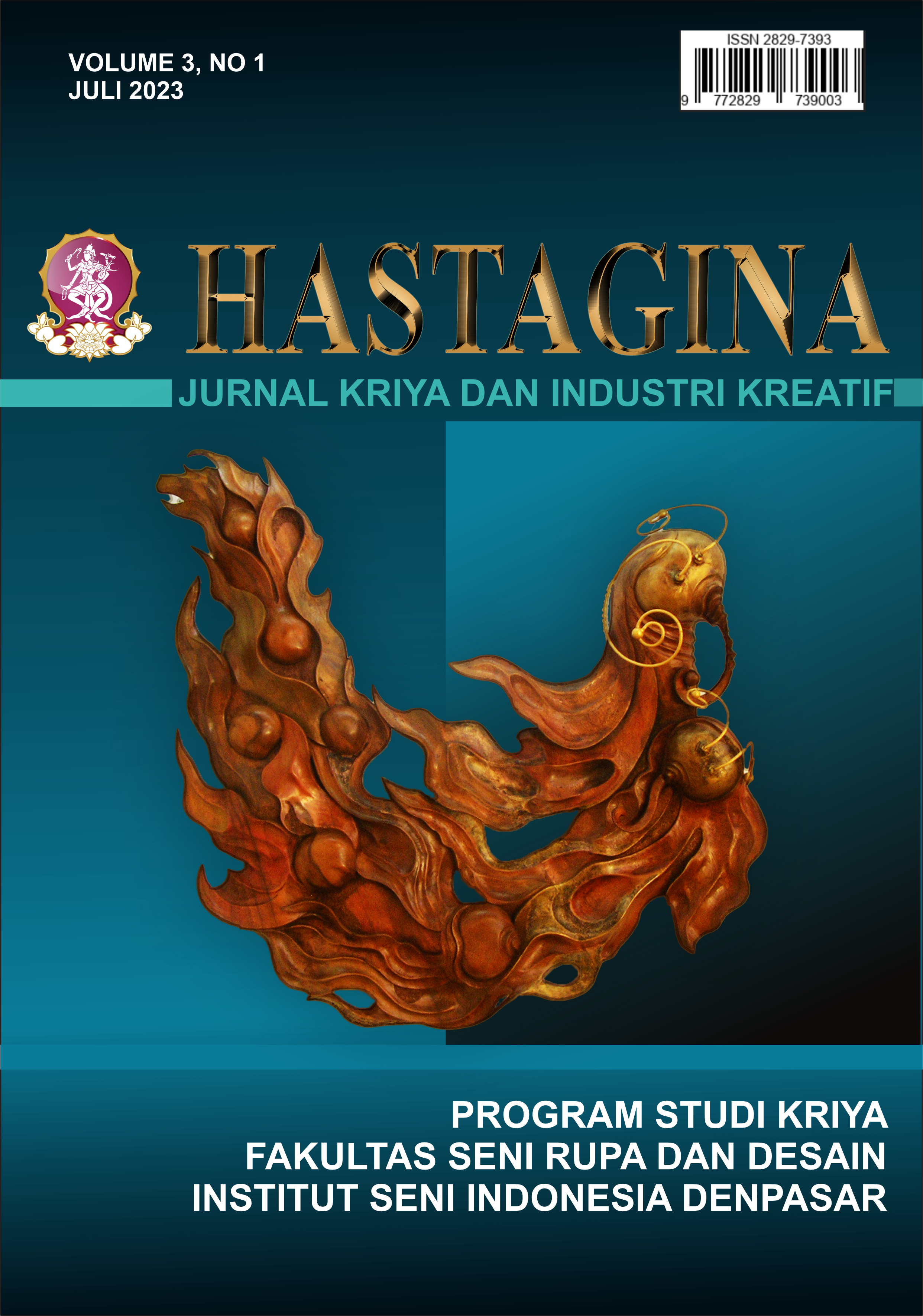 Hastagina : Jurnal Kriya dan Industri Kreatif
Volume: 3
Nomor : 01
Periode: Januari - Juni 2023
Published: 2023-07-29
View All Issues
HASTAGINA : Journal of Crafts and Creative Industries is an e-journal published by the Craft Study Program of The Fine Arts and Design Faculty of the Indonesian Art Institute of Denpasar, published twice, June and December, with the publication period January-June and July-December. Journals provide opportunities for lecturers, students, artists, and scientists to publish their work in the form of written works related to the fields of craft and creative industry. Contact us on the WA number. 082340095766.